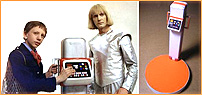 May 13, 1918          1st US airmail stamps issued (24 cents)
May 14, 1804          Lewis and Clark depart
May 15, 1937          Madeleine Albright is born
May 16, 1929          First Academy Awards ceremony
May 17, 1954          Brown v. Board of Ed is decided
May 18, 1920          Pope John Paul II born
May 19, 1982          Sophia Loren jailed in Naples for tax evasion
New Recommendations on RPNJ

Play Board Games with you kids.  They can teach important social skills, such as communicating verbally, sharing, waiting, taking turns, and enjoying interaction with others.  Even simple games like Chutes and Ladders can teach life skills such as  Never give up , your luck can change at any instant. 
Ridgewood Sidewalk Sale - May 16th - May 18th, at Central Business District,  Ridgewood, NJ
Cole Bros. Circus - May 30th thru June 2nd, 4:30 PM and 7:30 PM at Garfield High School, NJ
Фестиваль Русского Рока Эхо 2013 - May 31st - June 2nd,  at Deerpark KOA,  Cuddebackville NY
More ...
*Sourced from History.com