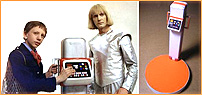 May 20, 1873          Levi Strauss and J.Davis get patent for blue jeans
May 21, 1881          American Red Cross founded
May 22, 1843          Great Emigration departs for Oregon
May 23, 1934          Police kill famous outlaws Bonnie and Clyde
May 24, 1883          Brooklyn Bridge opens
May 25, 1977          Star Wars opens
May 26, 1897          Dracula goes on sale in London
New Recommendations on RPNJ

Speech Therapists - Coming soon to http://RussianParentsNJ.Com

Family physician - Coming soon to http://RussianParentsNJ.Com


Show good example by remaining calm in stressful situations.  This encourages toddlers to do the same and might prevent future tantrums.  
Cole Bros. Circus – May 30th thru June 2nd, 4:30 PM and 7:30 PM at Garfield High School, NJ
Фестиваль Русского Рока Эхо 2013 – May 31st- June 2nd,  at Deerpark KOA,  Cuddebackville NY
More ...
*Sourced from History.com